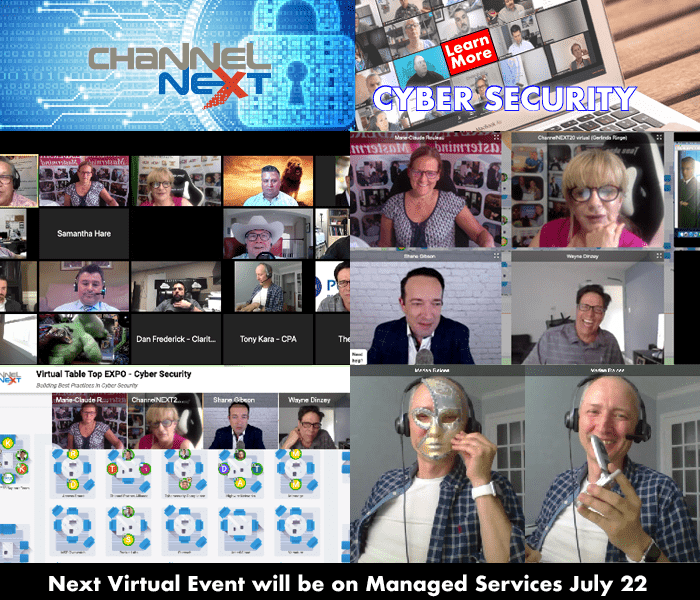 Our 3rd monthly ChannelNEXT Virtual event on Cyber Security is a wrap! The content was really outstanding thanks to the amazing line up of experts who had very deep knowledge of the topics and understanding of channel partners. Watch for more news highlights coming on e-ChannelNEWS.com with links to the recorded sessions. If cyber security matters to you, then you want to review the keynote by Gartner, Top MSSP/SCO panel discussion and 9 workshops! You will get some great ideas to help your cyber game!
The live virtual event experience was great and we did get some cool ???????????? comments including our favourite "one of the best virtual events ever attended". In starting a new tradition, we did a few treasure hunt games to win gift cards. One of the big winners was able to show both a mask and a flip phone! Attend it to experience this fun opportunity that quickly becomes competitive!
The Lions' Den has become such an important platform for testing out your digital presentation skills. It's not easy but it helps everyone to become better in the digital world. ALL sales people must master this digital skill! We always did the Lions' Den at our live events to help vendors to better present in front of a live audience. Both skills are important to master. Every vendor gets just 3 minutes to pitch their message to everyone. Then the audience votes for their favourite in real time. We hand out a cool Virtual Sales Warrior award to the vendor with the most votes. It is competitive and educational but can also be a lot of fun! (FYI, we offer a service to help vendors and channel partners to perfect their 3-minute pitch. We can also help to improve your presentations. Ask us for details).
We tested a new feature at this event called the "Virtual Table Top" Expo. It took some effort to jump from Zoom over to this new platform, but once you got there, the experience was quite interesting. Still some things to work through, but the simple double tapping on tables to meet new vendors and coaches (in groups of 6) was seamless and performance was actually quite good. Noticed some attendees renamed one of the tables "hot tub" :o) More to come as we explore several virtual event platforms and customize for our needs.
MSPs – Lock Up Your House. Three Reasons Why This Should Have Been Done Yesterday by Jason Rorie. MSP Overwatch. MSP Overwatch is a security program design, and management system built specifically to help MSPs lower their own risk, extend security to clients, and gain a competitive edge in their market. Security is about PROOF. MSP Overwatch empowers you to build it. Click here to view
ROR Selling by Shane Gibson. Sales and marketing have gone through a massive shift in a short period of time. Everything is faster, digital and in many cases commodified. When what you're selling and marketing becomes hard to differentiate from the market, prices drop, loyalty suffers and so do conversion rates. Real meaningful business relationships are a differentiator. ROR is about return on relationships.- How sales and marketing are now powered by online conversations- A model for measuring and progressing business relationships- The role trust and credibility play and how to gain it. Click here to view
Influencing Client Budgets: How to talk to a CFO about cybersecurity by Jeff Dawley, Cybersecurity Compliance Corp. Cybersecurity has quickly evolved from being an IT problem to the most significant business risk outside of COVID-19. CFO's and risk managers use frameworks to measure risk, controls and performance. Find out how to leverage framework-based assessments to bring cybersecurity to the executive table and access the budget planning process. Click here to view
Build Your Own $ecurity $tack By Randal Wark, Channel Partner Alliance. Face masks and hand sanitizers have now become a common part of everyday life. While health security measures are more important than ever, IT Security is likewise another reality we must now face. We will explore why a security stack is crucial to your success in the IT industry and how to use it as a competitive advantage and profit centre. Regardless of what solutions you mix into your security stack, it has to be effective in protecting your clients and YOU. With liability and insurance issues on the rise, this is no longer a choice for channel partners. Click here to view
Hack yourself before someone else does, by Richard Rogerson, PacketLabs. This workshop will review what a penetration test is, how it will improve cyber-security, when it is best to perform an assessment, and why MSPs/VARs are often targeted by cyber attacks. Getting into the mind of the attacker, we will also explore how a penetration test is completed, and share experience from the front lines. Click here to view
Password Authentication is secure. Password management is a security nightmare, by Dovell Bonnett, Access Smart. Security pundits want to blame passwords for all the cyber breaches. They love chanting "Kill Passwords" and "Go Passwordless." Passwords are secure and will never go away. They can't. The misunderstanding is the difference between password authentication to password management. In many ways, passwords are more secure than certificates and biometrics because of their unique features. Don't kill passwords. Instead, learn how to make password management secure. Click here to view
Artificial Intelligence: Help or Hinderance? by Paul Furtado, Gartner. Business and vendors of all sizes are starting to embrace artificial intelligence and machine learning. We will explore the impact of AI/ML both the good and bad. The potential negative impact on reliance on AI without checks and balances. The goal of the session is to prepare you to implement AI securely and level set expectations within the business. Click here to view
Build or Outsource Cybersecurity Platform, by Travis Ray, Highwire. 
From first-hand experience in both arenas, Cyber Crime Fighter Travis of Overwatch Managed Security delves into the Build or Partner debate. Managed Services Providers may be ready to provide cybersecurity services to their customers but they're often left wondering if they should build their own cybersecurity platform or outsource. Learn about the benefits and cons of both sides of the coin and walk away with practical next-steps to bolster your MSP business. Click here to view
The next 90 days for MSPs by Fiona Challis, Coach. The next 90 days are going to be critical to MSP's. Why? MSP clients are now in a time of reflection which is leading them to assess their satisfaction with their incumbent MSP over the last 10-12 weeks. This will undoubtedly lead to a Mass MSP client shift if they were dissatisfied which will also lead to a Great Big Client Grab in the industry. Join this masterclass and discover the 12 Sales & Marketing strategies that every MSP must implement to protect your existing clients from being snatched from you & to get ready to win new clients coming into the market. Click here to viewSMBs are Sitting Ducks by Amol Joshi, Cruciallogics. With the rapid shift to work from home, many companies have opened up their businesses to be easy targets for hackers. Amol shared some examples of companies who choose to ignore the risks and got hit very hard. He outlined a few quick things that every end-user can do instantly to not be a sitting duck. Click here to viewDo not miss our next themed ChannelNEXT Virtual event on August 26th on Everything Managed Services!