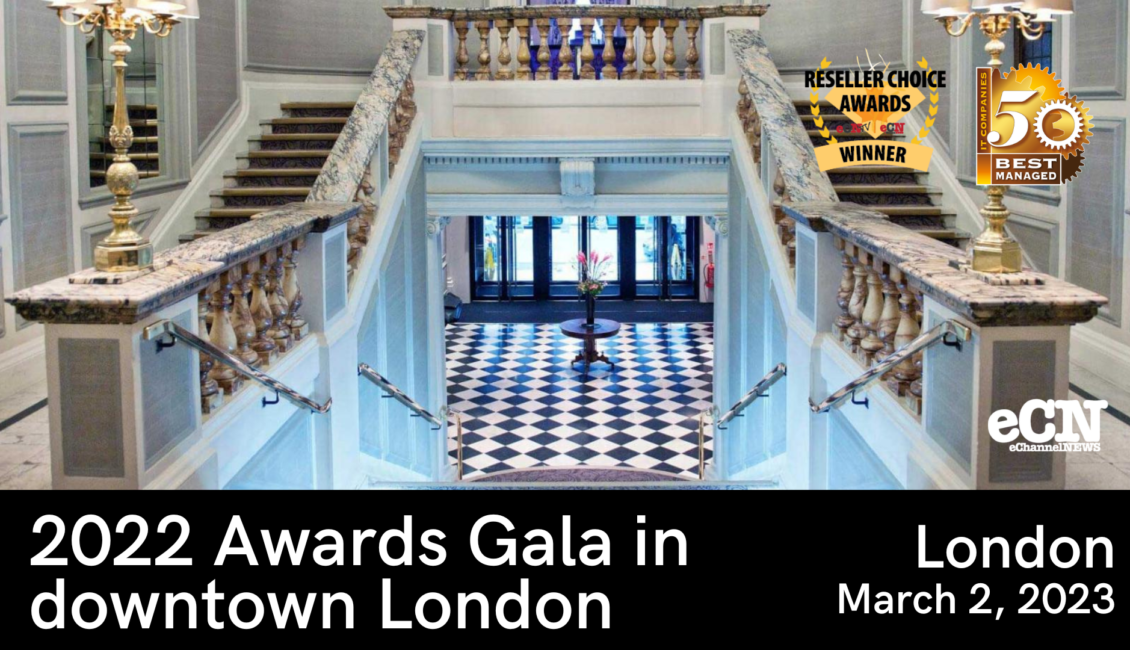 We will present the following awards:
Britain's Reseller Choice Awards (VOTE NOW!)

Top Ten Cloud Vendors
Top Ten Cybersecurity Vendors
Top Vendor
Top Distributor
Top Emerging Vendor
If you are a VAR or MSP and want to apply for this one-of-a-kind high-value award, simply fill out the assessment at www.bestmanageditcompanies.com. You must score in the top 50 to "win" this award.
The deadline to complete the assessment and to vote is January 31st, 2023.
If you do not score in the top 50, you will not be eligible for this award; however, we can guarantee that simply taking the assessment and (answering the approximately 200 questions) will help you and your team identify opportunities for improvement in your best practices. More information is available on the website.
Those who win this award get to celebrate with their teams for a job well done and gain leverage in marketing and public relations activities. It is an award that just keeps on giving! (Attendance is completely free for award recipients!)
This is also a once-a-year opportunity for the channel to socialize and celebrate over drinks and food. Just the kind of event that we enjoy!
At the same time, Britain's Reseller Choice Award winners in Top 10 Cloud Vendors, Top 10 Cybersecurity Vendors, Top Vendor, Top Emerging Vendor and Top Distributor will be announced. The most important aspect of this award is that the vendors must receive the most votes from channel partners in order to win it. You read correct! There are no judges or other criteria to determine the winners. Each year, we invite our 5,000+ channel partner community of eChannelNEWS from across the united Kingdom to simply vote for their favourite companies. Everyone of our subscribers will receive an e-mail with the link to vote online. It takes a minute to vote and is the easiest way to thank the suppliers who supported you best in 2022 while sending a message to the others to step up next year!
This awards gala is a fantastic opportunity to celebrate and network with some of the best of the best in the country!
Everyone in the channel is invited, but RSVP is required. There are only 200 spots available, and they are assigned on a first-come, first-served basis. If you don't want to miss out on this opportunity, register as soon as possible. The winners have already secured 75 of the 200 available spots. The remaining 125 tickets are available for £99, which includes an open bar and food.
Join us for the After-Awards-Dinner! After the hand-out of awards there will be a dinner for anyone who would like to continue the conversation. The cost for this After-Award-Dinner is £199 (p.p, plus tax), which includes a delicious 4-course dinner with unlimited drinks. (To order a ticket for the Award Award dinner register for the reception and ceremony first. Just follow the registration button. You will receive another link to book this Awards Dinner in your confirmation email. Seating is limited, so buy your dinner tickets soon. Note: If you need to cancel, you can do that up 7 days prior the event date.)
As you may know, we are from North America and have been doing these awards for over 16 years. It isn't the only thing we do, but it is the most enjoyable. We brought this to the UK to recognise Britain's Best in the Channel and to spread the word with everyone, everywhere via www.e-channelnews.com.
Registration opening soon! If you wish to be notified, please complete the contact form.